Networking Workshop "Circular Carbon"
Start date 2022-04-05 15:00
End date 2022-04-05 17:00
"Powered by" Climate and Energy Fund, the Energy Institute at Johannes Kepler University Linz, with the involvement of the University of Natural Resources and Life Sciences Vienna and WIVA P&G – The Hydrogen Initiative Flagship Region Austria Power & Gas is leading Task 21 "Circular Carbon & Industrial Symbiosis" of the IETS program.
Workshop Program
Decarbonization and circular economy are topics that need more and more embedding in our way of thinking and acting. How differently circular carbon can be understood will be discussed on the basis of models, experiences and best practice examples from tasks of different IEA TCPs. (Download the workshop programme in pdf format.)
Introduction and aim of the workshop:
Elvira Lutter, IETS ExCo Member, Climate and Energy Fund
Simon Moser, IETS Task 21 Manager, Energy Institute at Johannes Kepler University Linz
Horst Steinmüller, Hydrogen ExCo Member, WIVA P&G
The exchange will take the form of several elevator pitches and an accompanying discussion format. For this purpose, speakers from different IEA TCPs will present their perspectives on the topic of Circular Carbon.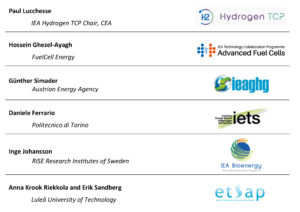 Registration:
Please register for the workshop at prieler@wiva.at by 04.04.2022.
The link access will be sent by e-mail on the day of the workshop
More information:
For more information about this workshop and IETS Task XXI, Decarbonizing industrial systems in a circular economy framework, pleas contact Task Manager Simon Moser