Final report: Annex XVI Energy efficiency in SMEs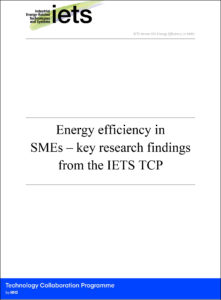 Around the world, extensive attempts are taken to improve energy efficiency for various sectors of the Economy, and industrial SMEs (Small and Medium-sized Enterprises) are no exception to that. Industrial SMEs are in various forms provided with funding opportunities, policy programs such as low-cost or free-of-charge energy audits are being offered etc. Despite so, many industrial SMEs still do not maintain their in-house energy management beyond the minimum law requirements, if any such national legislation exists. Further, the sector as such, industrial SMEs, is a way too broad definition to really be able to make some major conclusions ranging from medium sized very energy intensive pulp mills with continuous production to small non-energy-intensive companies with production weekdays, 8am to 5 pm.
In an attempt to further explore research in the area of industrial SMEs, the IETS TCP initiated research in the area. Two different research programs were carried out within the IETS, entitled Annex XVI, one between 2011-2015, followed by a second initiative in 2018-2020.
This report is a condensate of this IETS TCP research aiming to provide a brief, easily understandable presentation of the key findings. (Link to the report)