Energy Future in Industry
Start date 2023-05-09 10:00
End date 2023-05-11 13:00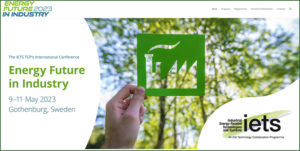 Let's meet again!
Although we have got used to meeting online during the pandemic – avoiding time and energy consuming travelling – physical meetings have some major advantages: catching up with colleagues, networking at the coffee table and discussing important projects in person. Therefore, our first general IETS Conference will be a physical one! It will be an open conference for people interested worldwide in energy in the industry sector.
The aim of the upcoming IETS conference is to give an overview of opportunities for major industrial technologies and systems for radical GHG mitigation in industry, primarily in the process industry.
Save the dates 9-11 May – registration will open mid-December.