Report: Deep Decarbonization in Industry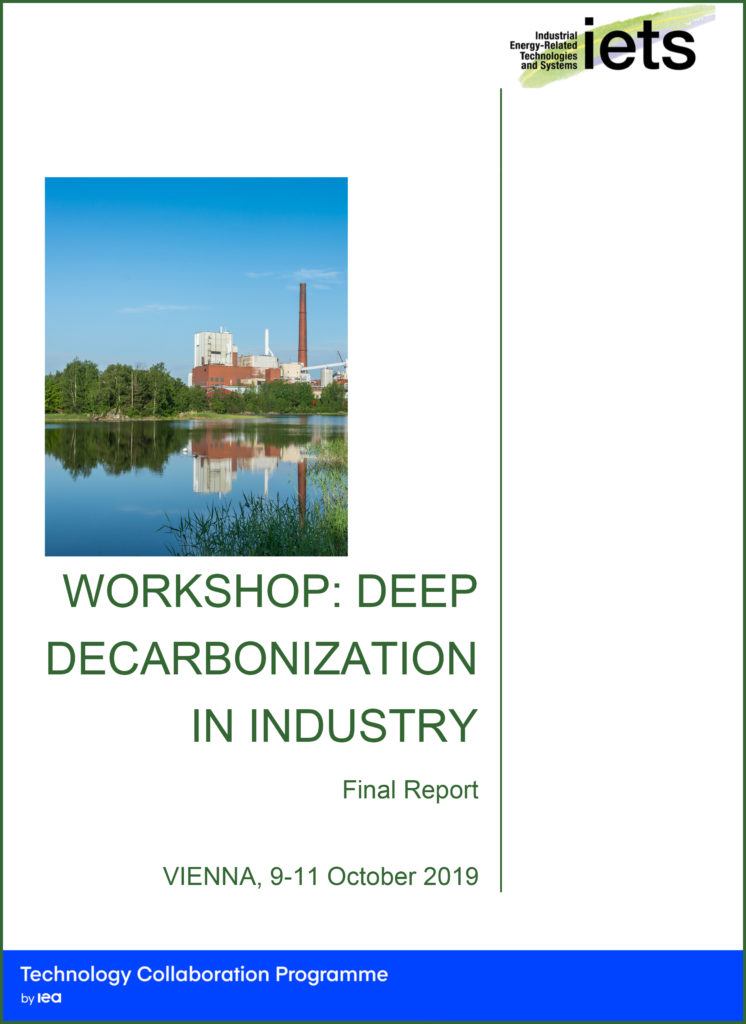 The IETS TCP  organized an International Expert Workshop on Deep Decarbonization in Industry in Vienna, October 9-11, 2019. A limited number of international experts were invited, resulting in around 50 participants from 15 countries. The workshop dealt in a broad way with most major aspects for deep decarbonization. Presentations, discussions, conclusions and suggestions for further work have been summarized in a Final Report.
Download the Executive Summary
Objectives of the Workshop
The main objectives of the workshop were:
To highlight the importance of process industry in radical GHG mitigation.
To point out opportunities and hurdles.
To identify hotspots for further RD&D.
To improve international collaboration between disciplines and RD&D areas.
To improve knowledge transfer to strategic industrial and policy decision makers.
Programme Committee and Authors of the Report
The Programme Committee consisted of the following experts:
Dr. Chris Bataille, Institute for Sustainable Development and International Relations (IDDRI.org), Paris, and Simon Fraser University, Vancouver, Canada
Prof. Andrea Ramirez, Delft University of technology, the Netherlands
Prof. Rene Hofmann, Vienna University of technology and AIT, Centre for Energy, Austria
Prof. Stefan Lechtenboehmer, Wuppertal Institute, Germany and Lund University, Sweden
Programme Manager Elvira Lutter, Climate and Energy Fund of the Austrian Federal Government
Dr. Philippe Navarri, CanmetENERGY, Natural Resources Canada, Canada
Prof. Thore Berntsson, Chalmers Institute of Technology, Chair of the IETS TCP, and chair of the Programme Committee