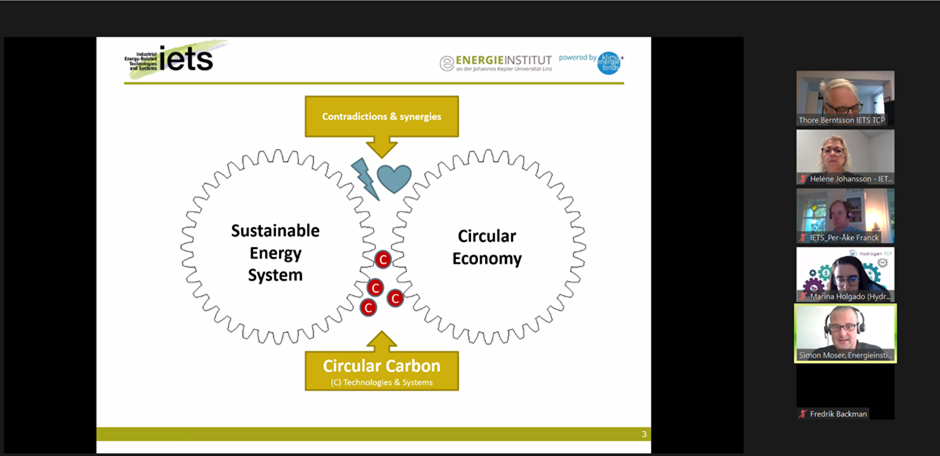 TCP collaboration for energy transition
During the TCP Universal week in October, the IETS TCP hosted a one-hour meeting for a discussion about further collaboration with other TCPs. It was a follow-up of the half-day EUWP workshop in December last year, in which ideas for cooperation were presented and discussed.
A number of representatives from fellow TCPs Heat Pumping Technologies (HPT TCP), Solar Heating and Cooling (SHC TCP), Greenhouse Gas R&D (GHG TCP) Bioenergy TCP and Hydrogen TCP joined the meeting, where new IETS activities, especially within the areas of electrification, industrial biorefineries, circular economy systems studies and digitalization, were presented.
"There is a very positive attitude towards more collaboration and knowledge sharing in the area of energy efficiency and GHG mitigation in industry", says IETS Chair Thore Berntsson. "Several ideas will be developed further and hopefully result in concrete projects."
The International Energy Agency (IEA) encourages collaboration between the different TCPs included in the IEA Technology Collaboration Programme and facilitates ways of working together – both in terms of organizing meeting opportunities and concerning procedural matters.
Since 2015, the IEA has hosted biennial "Universal Meetings" with all TCPs. These meetings provide an opportunity for the Chairs and Secretaries of the TCPs to interact with each other, with the IEA Secretariat and with national delegates to the IEA's Committee on Energy Research and Technology (CERT) and Working Parties.
More information about the TCP Universal Meeting at the IEA website:
Image: Simon Moser, Task Manager of the newly started Task XXI – Decarbonizing industrial systems in a circular economy framework, presenting current activities.