Digitalization in Industry – an Austrian Perspective
The digital transformation is already influencing many aspects of daily life. Also, in industry, digitalization has become an essential part of business and research. Digitalization measures offer possibilities to increase the productivity and flexibility of an industrial process and thus, improving its efficiency, saving energy and reducing costs. Moreover, digitalization can contribute to the transition towards renewable supplied and sustainable production.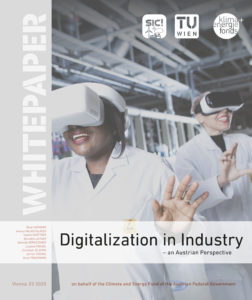 Within the initial Task of Annex XVIII – Digitalization, Artificial Intelligence and Related Technologies for Energy Efficiency and GHG Emissions Reduction in Industry – Austrian researches have published a white paper on the subject, commissioned by the Austrian Climate and Energy Funds (Klima- und Energiefonds).
The white paper contributes to the enhancement of:
digitalization measures, focusing on the reduction of energy in energy-intensive industries, by:
defining, placing and classifying essential terms,
giving an overview of past and current digitalization projects in the Austrian industry, and
identifying and analyzing 15 relevant digitalization techniques and technologies in detail,
including a definition, their requirements, gaps and barriers, possible applications, as well as a future outlook and an assessment of their potential.
More information (in German) at the TU Wien website
Contact:
René Hofmann, Project Manager, TU Wien
Elvira Lutter, the Austrian Climate and Energy Funds